ADK Model 15000
NEBS Approved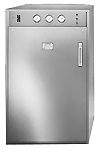 Outstanding Features:
Quiet Operation-Only 64 dBA at 3 feet. Air compressors with ventilating fans are mounted in a separate acoustically insulated enclosure within the main cabinet.
Energy Efficient-Requires only 2575 watts at 16000 SCFD and 1650 watts at 7000 SCFD
Teflon Ring Compressors- Oilless compressor for long life and dependable operation. Sealed ball bearing and Teflon rings for low friction and high reliability.
Automatic Compressor Alternator-For low capacity requirements (below 7000 SCFD) compressors are cycled on and off by a 15 minute timer for maximum energy efficiency.
Superior Drying System-Refrigeration and heat reactivated desiccant drying for efficiency, long life and low cost. Less than 5% of the air compressor output is used for purge.
Reliability-Ten hour solenoid valve cycle (instead of 60 seconds), towers always pressurized-no system jolting pressure changes-low system pressure for long compressor life.
Full Alarm and Electrical Protection-High humidity alarm, high/low outlet air pressure alarm, high humidity by-pass, humidity test valve, alarm lights, power circuit breaker, thermal motor protection.
Accessibility-All components accessible from top or front - air compressors mounted on slide out trays.
High Performance Ventilating System-Large individual ventilating fan for each air compressor directs air flow to critical high temperature areas on the air compressors. This extra cooling results in longer air compressor operating life.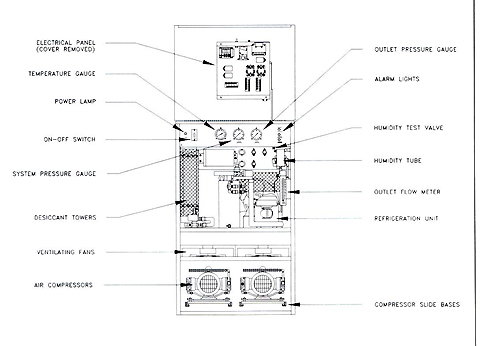 Two Compressor Capacity
16000 SCFD (453 M2/D)
One Compressor Capacity
7000 SCFD (212 M2/D))
Power Requirements
208/230 VAC, Single Phase, 60 Hz, 20 Amps
Alternate Power Requirements
220 VAC, Single Phase, 50 Hz, 15.9/10.7 Amps
Dimensions
30" W x 24" D x 49" H
Weight
470 lbs. ; 560 lbs Shipping Weight
Delivered Air Humidity
Under 1% at 70° F
Alarms
High Humidity
Adjustable High/Low Outlet Pressure
Low System Pressure
Delivered Air Pressure
Low Pressure Outlet 0-15 PSIG
High Pressure Outlet 25 PSIG Max.
Operating Temperatures
33° F to 125° F
Dryer Rated
70° F at 29.92 Inches of Mercury
Ordering Information
ADK Model 15000, 70500