XE Series Waterseal Dryers
NEBS Approved
McIntire manufactures the most reliable Waterseal type dryers in the industry. Designed for simplicity and longevity, our XE Series outlasts any and all dryers that dare to compare. And now, all XE dryers are backed by our new MC4 Series Compressors, offering the longest warranty in the business.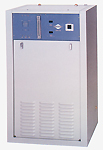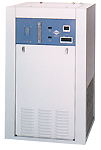 Outstanding Features:
Automatic Plant Load Adjustment-dryer system automatically adjusts to any increase or decrease in the cable plant load.
Maximum water make-up-An automatic water extraction system insures that water removed from output air is always adequate for compressor operation.
Lower Sound Levels-Achieved by the use of unique stainless steel pneumatic silencers which reduce noise levels well below OSHA standards.
Output Overload Protection-Prevents changes in outside plant conditions from demanding more than capacity from system. Eliminates humidity alarm shutdowns due to overloading.
Hydro-magnetic Circuit Breakers-Motor compressors protected through the use of modern NEC specification circuit breaker which is hydraulic-magnetic, NOT thermal.
No Alarm Override Switches-Go/No-Go Alarm Circuitry eliminates the potential for accidental alarm overrides.
Digital Pressure Displays- Large, "at a glance", easy-to-read digital LED output and System pressure displays.
Multi-Function Alarm System- Complete alarm protection is provided. All alarms have designated "alarm" and "history" lights. Alarms can easily be monitored close-on-alarm (Normally Open) or open-on-alarm (Normally Closed); settings are user selected.
Energy Efficient Compressors-Equipped with McIntire's own MC4 Series motor compressor design, which provides a 30% energy savings and 25% more delivered air than previous McIntire and most competitive models. Multi-voltage 208/230 volt motors with quick-connect power cables are standard.
Automatic Restart Capability-Permits dryer to restart unattended after resumption of utility power following service interruption with assurance of complete alarm protection.
Humidity By-Pass- Wet cable prevention system automatically diverts wet air away from cables until humidity alarm is cleared.
Lifetime Stainless Steel Components-McIntire's own design of corrosion-resistant, TIG welded stainless steel drying towers and components decreases overall dryer maintenance and service.