ADK Model 4200 ID
NEBS Approved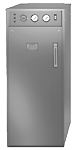 Outstanding Features:
Ultra Dry Air-Self-reactivating desiccant drying system provides less than minus 40° F dew point air.
Quiet Operation-Acoustically insulated compressor chamber, less than 65 dBA at three feet
Teflon Ring Compressor-Oilless compressor for long life and dependable operation. Sealed ball bearing and Teflon rings for low friction and high reliability.
Cool Operation-High flow compressor cooling fan directed at critical high temperature areas.
Accessibility-All components accessible from top and front. Air compressor mounted on slide out tray which simplifies service and maintenance.
Full Alarm Protection-High Humidity, High/Low Outlet Pressure, Excessive compressor run time. All air passes through humidity sensing tube. Humidity test valve and humidity by-pass valve. Alarm lights on front panel.
Designed for Long Service Life-Large capacity ASME coded air tank for optimum compressor cycle time, 30 amp compressor power contactor, double size pre-cooler, two stage pressure regulation, Oilless air compressor.
Full Instrumentation-Full outlet flowmeter, tank pressure, dryer pressure, flowmeter pressure and outlet pressure gauges. Compressor run hourmeter. Power lamp, humidity, outlet pressure and excessive run time alarm lights.
Design Uses-Designed for indoor use in small to medium sized central offices.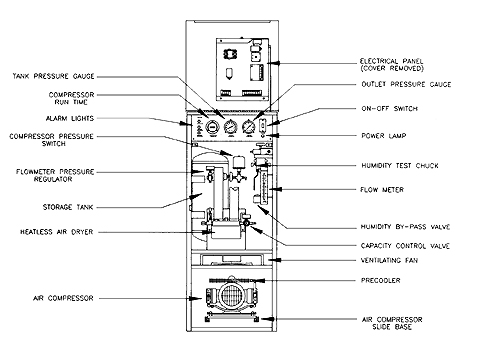 Normal Capacity
3000 SCFD (84.9 M2/D)
Maximum Capacity
4200 SCFD (119 M2/D)
Power Requirements
115 VAC, Single Phase, 60 Hz, 20 Amps
Alternate Power
110 VAC, Single Phase, 50 Hz, 14 Amps
220 VAC, Single Phase, 50 Hz, 7 Amps
Dimensions
20" W x 21" D x 49" H
Weight
250 lbs ; Shipping Weight 328 lbs
Delivered Air Humidity
Under 1% at 70° F
Alarms
High Humidity
Adjustable High and Low Outlet Pressure
Excessive Compressor Run Time
Delivered Air Pressure
Adjustable 0-15 PSIG
Operating Temperatures
33° F to 120° F
Dryer Rated
70° F at 29.92 Inches of Mercury
Ordering Information
ADK Model 4200 ID, PN 70586