McIntire CAD & PAD 5000
NEBS Approved
The CAD and PAD 5000 are engineered to be the most reliable 5000 SCFD air dryer available. The CAD-5000 is ideal for use in ESS offices, repeater stations and intermediate-sized central offices. The PAD-5000 can be pole or pad mounted.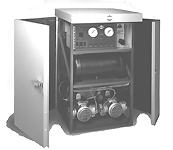 Outstanding Features:
Integral compressor alternator greatly extends compressor life, reduces energy consumption and assures pressure capability under emergency conditions.
Ultra low sound levels make the CAD and PAD-5000 the quietest system of its kind.
Automatic restart permits dryer to restart unattended after resumption of utility power following service interruption with assurance of complete alarm protection
Humidity by-pass system provides automatically diverts wet air away from cables until humidity alarm is cleared
Stainless Steel construction of all corrosion prone components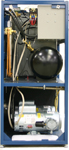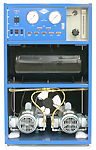 Minimal routine maintenance means less human attention is required
Simplified electrical/control compartment includes plug-in electrical components housed in an integrated instrument panel featuring hydraulic-magnetic circuit breaker
Thermostatically-controlled, high capacity cooling fans eliminates overheating of the compressors and electrical components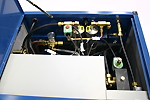 Output Capacity flowmeter allows instant reading of dryer load
Accessibility to all parts is provided by removable panels on the CAD-5000 and Full 180° access doors on the PAD-5000
Model:
CAD-5000

PAD-5000

Application:
Central Office, ESS Office, Repeater Stations
Polemount/Outdoor/Indoor
Capacity:
5000 SCFD
Operating Temp. Range:
35°F to 125°F
-40°F to 125°F
Alarms:
High Humidity
Low Pressure
Compressor Overload
Power Failure
Weight:
310 lbs
315 lbs.
Delivered Air Pressure:
0-15 PSIG
Delivered Air RH:
Less than 2% RH
Dimensions:
42"H x 26" W x 20" D
45"H x 30"W x 26"D
Power Requirements:
208/230 V, 60 Hz, 20A, 1 phase