ADK Model 200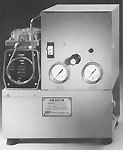 Outstanding Features:
Ultra Dry Air-Self Reactivating heatless drying system provides air at less than -40°F dewpoint
Quiet Operation-Diaphragm type compressor keeps operating noise level down to 59 dBA at 3 feet.
Cooler Air Output-Even at maximum duty, output air is cool and oil free
Mounting-Easily mounts on floor or equipment rack.
Compact and Lightweight-Small compact size provides maximum air flow in its class. Lightweight enough to mount anywhere.
Alarm Circuits and Controls-System pressure gauge, output pressure gauge, high humidity, low pressure alarm. All included on front panel.
Compressor-Diaphragm type compressor for trouble free, long term operation.
Low Maintenance-Compressor and Heatless dryer designed for long life. Only periodic filter change is required.
Versatile-Supports telephone cables, CATV coax, fiber optic, wave guide, radar and antenna systems.
Optional Shelf-Available for equipment rack mounting.
Accessibility-All components accessible from front. Hinged front door provides full access.
Normal Capacity
200 SCFD (5.7 M2/D)
Emergency Capacity
300 SCFD (8.5 M2/D)
Power Requirement
115 Volts, Single Phase 60 Hz, 4.5 Amps
Dimensions
15" W X 8" D X 17" H
Weight
53 lbs
Delivered Air Humidity
Under 1% at 70°F
Alarms
High Humidity
Low Output Pressure
Power Failure
Delivered Air Pressure
Adjustable 0-15 PSIG
Operating Temperatures
33°F to 120°F
Dryer Rated
70°F at 29.92 Inches of Mercury
Ordering Information
ADK Model 200, PN 70555