ADK Model 600RS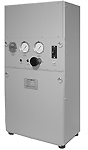 Outstanding Features:
Installation-Can be installed on 19" or 23" equipment rack or floor mounted. Mounting brackets are included.
Accessibility-All Components accessible from front including air compressor, heatless air dryer, and electrical components. Two drop down doors provide full access.
Compressor-Oilless compressor for long life and dependable operation. Sealed ball bearings and Teflon rings for low friction and high reliability.
Quiet Operation-Acoustically insulated compressors chamber provide low noise operation
Ultra Dry Air- Heatless self-reactivating desiccant heatless dryer drying system
Equipment-Equipped with hour run time meter, power on lamp and alarm lamps.
Accessories- Up to eight (optional) flow modules with gauges can be mounted in top section of dryer
Self Contained-Eight port distribution built into top section of dryer. Compact design gives maximum use within minimum space.
Reliability-Fully automatic trouble free operation. Pressure switch cycles compressor on/off as load demands.
Design Uses-Designed for small central offices, antenna lines, coaxial cables and cellular radio systems requiring small volumes of controlled dry air.
Normal Capacity
600 SCFD (17 M2/D)
Maximum Capacity
750 SCFD (21.2 M2/D)
Power Requirements
115 VAC, Single Phase, 60 Hz, 10 Amps
Alternate Power
230 VAC, Single Phase, 60 Hz, 2.5 Amps
110 VAC, Single Phase, 50 Hz, 5 Amps
220 VAC, Single Phase, 50 Hz, 2.6 Amps
Dimensions
17" W x 10" D x 32" H
Weight
106 lbs ; Shipping Weight 131 lbs
Delivered Air Humidity
Under 1% at 70°F
Alarms
High Humidity
Low Outlet Pressure
Delivered Air Pressure
Adjustable 0-15 PSIG
Operating Temperatures
33° F to 120° F
Dryer Rated
70° F at 29.92 Inches of Mercury
Order Information
ADK Model 600RS, PN 70568