ADK Model 30000
NEBS Approved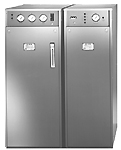 Outstanding Features:
Automatic Output Capacity-Compressors cycle automatically to provide a normal capacity of 7000, 16000 or 24000 SCFD from this dryer. This feature provides maximum energy efficiency and versatility in meeting changing central office air requirements.
True Emergency Capacity-Automatically switches to 32, 000 SCFD capacity in emergencies. Can be operated "months at a time" in the emergency mode, not just hours or days like other comparable air dryers.
Teflon Ring Compressor- Oilless compressor for long life and dependable operation. Sealed ball bearing and Teflon rings for low friction and high reliability.
Automatic Compressor Alternator-Extends air compressor life due to the air compressors operating well below maximum recommended temperatures when cycled on and off by the 15 minute timer.
Superior Drying System-Refrigeration and heat reactivated desiccant drying for efficiency, long life and low cost. Less than 5% of the air compressor output is used for purge.
Reliability-Ten hour solenoid valve cycle (instead of 60 seconds), towers always pressurized-no system jolting pressure changes, low system pressure gives longer compressor life.
Energy Efficient-Draws less than 70% of the power used by other comparable air dryers.
Full Alarm and Electrical Protection-High humidity alarm, system pressure, high/low outlet pressure alarm, high humidity by-pass, humidity test valve, alarm lights, power circuit breaker, thermal motor protection.
Normal Capacity
24000 SCFD (680 M2/D)
Emergency Capacity
32000 SCFD (906 M2/D)
Power Requirements
208 VAC, Three Phase, 60 Hz, 30 Amps
Alternate Power
220 VAC, Three Phase, 50 Hz, 30 Amps
Dimensions
Dryer Module: 20 ½" D x 20 ½" W x 49" H
Compressor Module: 17"D x 26" W x 49" H
Weight
Dryer Module: 325 lbs; 378 lbs Shipping Wt
Compressor Module: 380 lbs; 433 lbs Shipping Wt
Delivered Air Humidity
Under 1% at 70° F
Alarms
High Humidity
Adjustable High and Low Outlet Pressure
Low System Pressure
Delivered Air Pressure
Low Pressure Outlet-Adjustable 0-15 PSIG
High Pressure Outlet- 25 PSIG Max.
Operating Temperatures
30° F to 125° F
Dryer Rated
70° F at 29.92 Inches of Mercury
Ordering Information
ADK Model 30000, PN 70515