ADK Model 4200 PM
NEBS Approved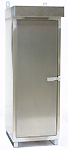 Outstanding Features:
Outdoor or Indoor Installation-Dryer can be mounted on wall, floor, pad or pole mounted.
Quiet Operation-Sound proof cabinet is thermostatically controlled and insulated for all weather operation
Aluminum Cabinet-Fully Welded cabinet is corrosion resistant for long life and minimum maintenance
Cool Operation-Large cooling fan under top lid provides full flow air for cooling of all internal components
Accessibility-All components accessible from front including slide out compressor air compressor tray, slide out heatless air dryer, swing out and removable service door and removable chassis.
Ultra Dry Air-Self reactivating heatless drying system provides less than minus 40 F dew point air.
Designed For Long Service Life-Large capacity ASME coded air tank for optimum compressor cycle time, 30 Amp compressor power contactor, double size pre-cooler, two stage pressure regulation, Oilless air compressor.
Full Alarm Protection-High Humidity, low pressure, alarms. All air passes through humidity sensing tube.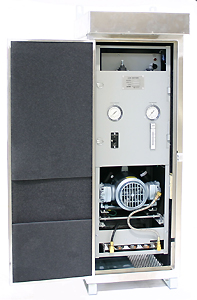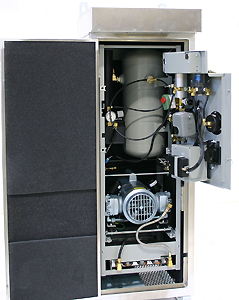 Normal Capacity
3000 SCFD (85 M2/D)
Maximum Capacity
4200 SCFD (119 M2/D)
Power Requirements
115 VAC, Single Phase, 60 Hz, 20 Amps
Alternate Power
110 VAC, Single Phase, 50 Hz, 18 Amps
220 VAC, Single Phase, 50 Hz, 9 Amps
Dimensions
17 ½" W x 20 ¼" D 50" H
Weight
200 lbs ; Shipping Weight 230 lbs
Delivered Air Humidity
Under 1% at 70° F
Alarms
High Humidity
Adjustable Low Pressure
Delivered Air Pressure
Adjustable 0-15 PSIG
Operating Temperatures
-60° F to 125° F
Dryer Rated
70° F at 29.92 Inches of Mercury
Order Information
ADK Model 4200 PM, PN 70591