ADK Model 600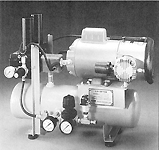 Outstanding Features:
Compact-Easily Mounted on floor or shelf. Unit includes rubber feet for noise reduction and six foot power cord
Accessibility-All gauges and controls located on front for easy reading and adjustments
Compressor-Oilless compressor for long life and dependable operation. Sealed ball bearings and Teflon rings for low friction and high reliability.
Ultra Dry Air-Heatless self-reactivating desiccant, ADK Heatless Dryer system. Delivers air below -40°F dew point
Equipment-Standard with 50 PSIG compressor and 0-15 PSIG output gauge
Accessories-Available with very low pressure regulator and gauge reading inches of water. Available modified to meet special requirements.
Reliability-Fully automatic trouble free operation. Pressure switch cycles compressor on/off as load demands.
Self Contained-Air Compressor, storage tank, pressure switch, regulator and gauges all mounted in one unit.
Design Uses-Designed for small central offices, antenna lines, coaxial cables and cellular radio systems requiring small volumes of controlled dry air.
Normal Capacity
600 SCFD (17M2/D)
Maximum Capacity
900 SCFD (25.5 M2/D)
Power Requirement
115 VAC, Single Phase, 60 Hz, 10 Amps
Alternate Power
220 VAC, Single Phase, 60 HZ, 4 Amps
110 VAC, Single Phase, 50 Hz, 7 Amps
220 VAC, Single Phase, 50 Hz, 4 Amps
Dimensions
25" W x 13.5 D x 17.5" H
Weight
70 lbs. ; shipping weight 121 lbs.
Delivered Air Humidity
Under 1% RH at 70°F
Alarms
Low Outlet Pressure
Delivered Air Pressure
Adjustable 0-15 PSIG
Operating Temperatures
33°F to 120°F
Dryer Rated
70°F at 29.92 Inches of Mercury
Order Information
ADK Model 600, PN 70567